With the use of modern technology on the rise, there are more and more ways to keep in touch with the people you care about. However, these advancements in cell phones especially often lead to overly complicated interfaces, buttons, and software, making them much harder to use than necessary. Fortunately, there are some options that are simpler, easy to use, and much more affordable than most smartphones.
Cell phones provide people with the opportunity to stay connected to their loved ones, and this is extremely important for seniors. By recommending an easy-to-use cell phone that has easy-to-use features, you can help them stay in contact with the people in their lives.
What Kind of Cell phone Is Best for a Senior?
When it comes to choosing the right cell phone for a senior in your life, it's important to pick one with features that are easy to use. Some key things to look for include:
Large buttons or interface
High volume and audio clarity
Simple, easy-to-use interface
It also helps to keep battery life in mind while choosing a cell phone so that if your loved one forgets to charge their phone every now and then it won't be too much of a problem. This is particularly beneficial for seniors who want a simple, long-lasting phone to keep in touch with family and friends but don't want to use the phone every day.
Once you've chosen an option, start by focusing on the basics. Introduce them to the calling and texting features and show them how to access both. If necessary, you can always provide written or visual instructions for this, or refer to the manual for the phone.
Then end by adding all the numbers they need, and use the speed dial option if necessary. You could leave a note or list of instructions somewhere so they can always know how to contact the people in their lives. Don't forget to add their new number to your own phone as well!
By being patient and letting your loved one learn at their own pace, you can help keep frustration to a minimum.
Jitterbug Smart 3
This cell phone is an excellent choice for seniors in need of a simplified and user-friendly phone. Designed to be straightforward and easy to use, the Jitterbug Smart 3 is designed for seniors who may not be familiar with smartphones to be able to easily operate the device.
Some of the key features of this option are:
Large icons
Large text
Simplified buttons
Simple interface
Large display screen
This phone also offers a range of services designed for older adults, including a simple emergency response system and medication reminders, helping users stay safe and connected.
LG Exalt LTE
The LG Exalt LTE offers several benefits for seniors. With a simple and intuitive design, this phone is easy for seniors to navigate. This phone uses a traditional flip phone design with physical buttons, which seniors often find to be more familiar and comfortable.
It also features a large, bright display on the front of the phone, making it easier for someone with visual impairment to read texts and view contacts on incoming calls. However, one of the best features of this phone is its long-lasting battery—it can maintain several days of usage off a single charge.
Samsung Galaxy A10E
The Samsung Galaxy A10E is an easy-to-use smartphone. This phone offers many options similar to most modern smartphones, with the ability to download apps, make calls, and send messages easily. However, it also has a lightweight design with a clear high-resolution screen making it much easier to read texts and view pictures.
This phone also offers many customization options designed to make the phone much more accessible. This includes:
Adjustable fonts
High-contrast modes
Magnification and zoom abilities
Color inversion options for the visually impaired
This phone also offers a long battery life and enhanced call quality for clear, uninterrupted conversations.
Motorola Moto G Power
The Motorola Moto G Power phone is known for its extremely long battery life and easy-to-use interface. This is extremely beneficial for seniors who rely heavily on their cell phone for communication and entertainment, as its clear and bright screen offers a high-resolution option for reading messages, viewing photos, or even watching videos on the phone.
This phone also offers a built-in text-to-speech program, a high-contrast mode, and supports most apps from third-party stores like Google Play. It also has one excellent thing that sets it apart from most modern phones—Motorola devices are known for their durability. This allows it to be a reliable and long-lasting choice for seniors who may be worried about damaging their device.
Nokia 2780 Flip
The Nokia 2780 Flip phone offers many benefits for seniors. With a simple and familiar design, this flip phone is both durable, long-lasting, and easy to use. The physical buttons and simple layout make it an excellent option for seniors looking to keep in touch with the people in their lives while avoiding the complexities of many smartphones.
It's both compact and portable, making it easy to carry around while avoiding excess bulk, and is an extremely durable choice. Built to withstand everyday wear and tear, the Nokia 2780 Flip is a great choice for seniors in need of a reliable device.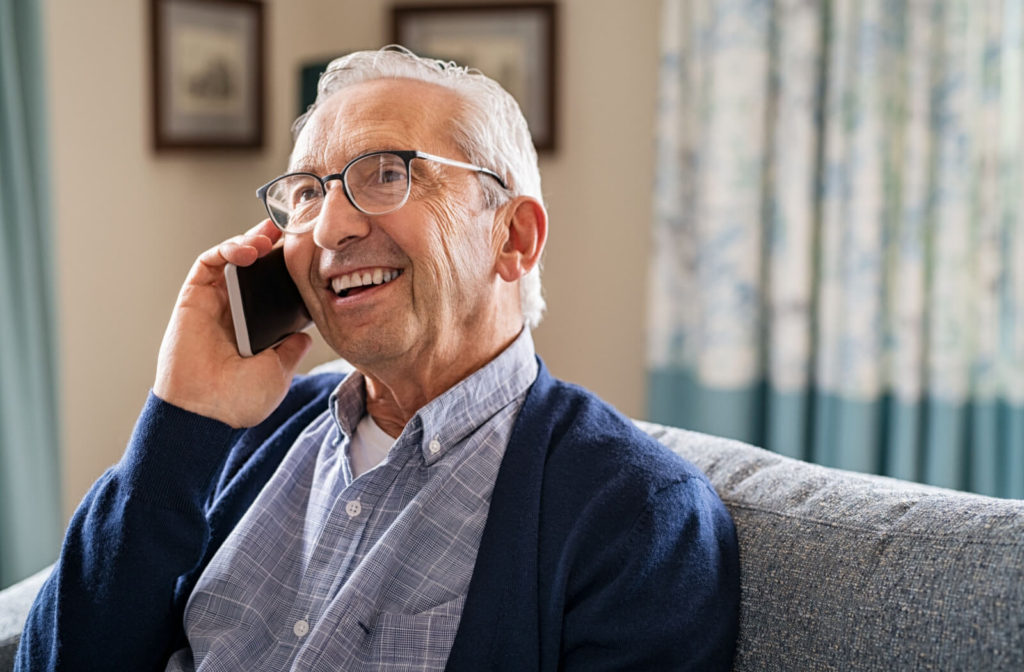 RAZ Memory Cell Phone
The RAZ Memory Cell Phone, made by RAZ Mobility, is a cell phone specifically designed for seniors or people struggling with cognitive problems. Designed to be simple, easy to use, and as supportive as possible, this device is designed to avoid any excess programs or apps and function as a simple communication device.
It also offers reminders for medication and quick dial options for caregivers to easily be able to connect with them, as well as an option for remote access so that caregivers or friends and family can help set the phone up, manage contacts, and add reminders or appointments. The RAZ Memory Cell Phone also offers support for hearing aids!
This, alongside large buttons and a bright display, make it an excellent decision for seniors who need a device that's both easy to use and can offer support with their daily life.
Senior Support in Edina
Communication is vital for seniors, and it's important that they feel connected with the world around them. When considering providing a loved one a cell phone, it's important to ensure that it has all the features they need to make communication as easy as possible. But when caring for a loved one, communication is only one piece of the puzzle.
It's important that your loved one is surrounded by a team of people trained to give them the care they need. Schedule a tour with us here at Yorkshire of Edina today and see for yourself the care available!