Memory care is a type of assisted living intended for seniors with dementia or Alzheimer's disease. The level of support provided by memory care involves 24-hour care and a carefully designed environment focused on maintaining quality of life, preserving cognitive function, and making daily life safe.
But what does a memory care community do? Memory care can include around-the-clock care, specially trained staff, secure environments, and memory-enhancing therapies and activities. A senior living community offering memory care may also provide meals, housekeeping, and help with other daily activities.
Many residents of senior living communities receive memory care that adapts as Alzheimer's or dementia progresses. Whether your loved one is in the beginning stages of dementia or the development of dementia is advanced, a senior living community like ours at Yorkshire of Edina can provide the support they need.
What Are the Benefits of Memory Care?
Specialized care is only one of many benefits memory care can offer to seniors with Alzheimer's and other forms of dementia. Many memory care communities can also offer stimulating activities, a built-in social network, and compassionate staff for support. Benefits can also include:
24-hour access to expertly trained staff
Engaging activities and events
Supportive therapies
Secured living spaces
Assistance with daily living activities
Individualized, holistic care
Regular health monitoring
How Does Memory Care Help Seniors with Memory Problems?
Older adults with any stage of dementia can live full lives with specialized memory care. Still, those with Alzheimer's and dementia may have unique needs. The safety of your loved one is paramount. We have an on-site team 24/7 and a range of features designed to help our residents stay safe and get the support they may need for daily life.
Memory care can include support for several daily tasks with:
Chef-prepared meals
Housekeeping support
Laundry services
Help to and from meals and activities
The experienced staff at a memory care community strive to ensure your loved one's basic needs are met, including:
Dressing
Bathing
Personal hygiene
Assistance with eating
A memory care team may be equipped to manage enhanced care with support for a variety of healthcare needs, including respiratory problems, medication management, dietary requirements, and mobility assistance.
When Is it Time for Memory Care?
A common question that families ask themselves is: when is it time for memory care?
If you're managing at-home caregiving for your loved one, their dementia may reach a point where the level of care they need exceeds your abilities. Choosing memory care before it gets to that point can be helpful. Early interventions with structured activities and therapies can help older adults with cognitive challenges practice skills and maintain independence in a supportive setting.
It may be time to consider memory care for a loved one if:
You're constantly worried about their safety
They're neglecting their hygiene
Your loved one has had accidents or falls
They're not getting adequate nutrition or exhibiting weight problems
You're experiencing caregiver burnout
Choosing memory care is a loving choice to make for a loved one with advancing dementia. A community like Yorkshire of Edina can give your loved one exceptional care to help you nurture your relationship outside of being a caregiver.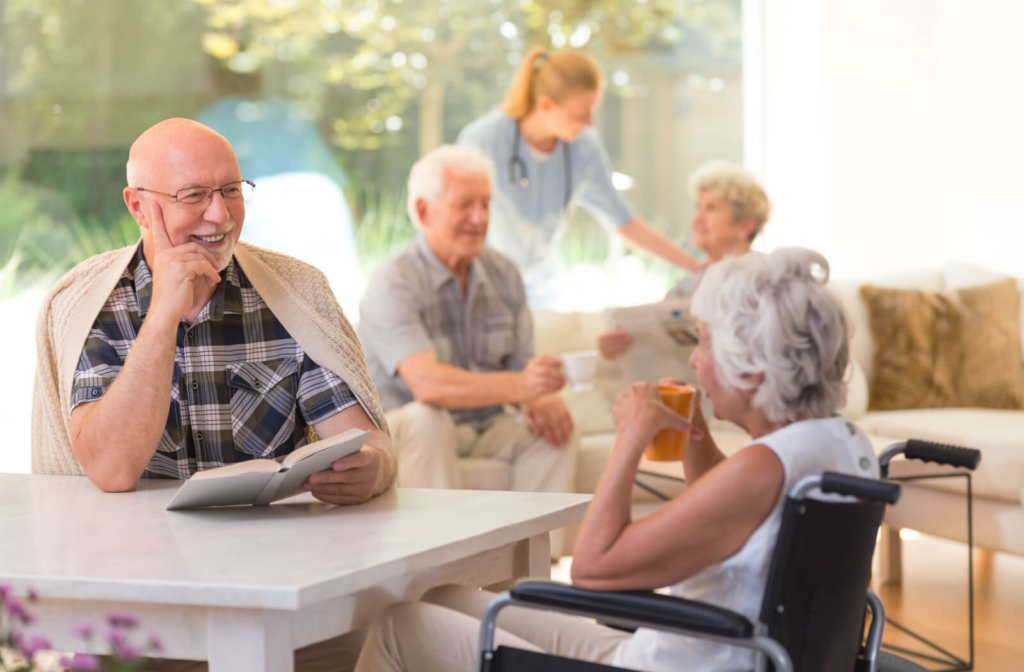 How to Choose a Memory Care Community
Selecting a memory care community can be overwhelming. If you start the process early, you can decide under less pressure, and your loved one can be an active participant in the process.
The essential questions to ask and factors to consider include:
What is security like? Can residents move freely? Are there alarms or emergency alert systems?
How many team members are there? Are there doctors or specialists available?
What is the memory care therapy program like? What other enriching activities are available?
What kind of meals are offered to residents?
What is the procedure for family visits? What role does family play in care? How can families communicate with staff?
What's the protocol during a medical emergency?
What types of care are provided by the memory care facility?
Discover the Memory Care Experience at Yorkshire of Edina
Memory care isn't one-size-fits-all, and we take a person-first, holistic approach to helping your loved one live a dignified, joyful life after a dementia diagnosis.
Continue learning about your family's options for memory care and schedule a visit to our community. Meet our staff, view our suites and floorplans, learn about our amenities, and tour our community. Bring your loved one along too!