Senior communities can provide an increased quality of life for many seniors but, people and their needs aren't all the same. Fortunately, various communities exist for older adults from several walks of life. And when it's time for a senior to transition through these stages—from assisted living to memory care, for example—this becomes a question that needs an answer.
Unfortunately, there isn't a one-size answer to when a senior should move from assisted living to memory care because it could vary based on what the community is equipped for or a person's particular needs. When considering the transition, loved ones and caregivers will consider a senior's overall mental and physical health and how much added assistance they need with daily activities.
These transitions may not always be smooth. Someone who needs memory care may resist the care they need. Learning some strategies to help with a smooth and gentle transition may be helpful. Keep reading for a brief look at these types of senior living, signs there should be a transition, and strategies for a smooth transition.
What Is Assisted Living?
Activities of daily living (ADLs) is a term first used in 1950 to describe a set of necessary skills we must possess to care for ourselves independently. A certain degree of "slowing down" may be expected as we age. But for some, there comes the point where they cannot perform 1 or more of their ADLs.
A loved one may step up at first to help, which is a wonderful act of love. But an assisted living community may also be a good option for some families. These communities employ teams of professional caregivers to ensure a senior gets all the assistance they need while retaining as much independence as possible.
What Is Memory Care?
An assisted living community will typically be equipped to deal with a certain degree of cognitive decline in older adults, especially a community that also offers memory care services. Even with the similarities, they are not the same type of care.
Memory care is care that seeks to improve the quality of life for those with dementia-related illnesses. The staff will be trained to deal with potentially aggressive behavior or advanced care needs. Additionally, if a senior with dementia cannot express their needs, their caregivers are often able to read the resident's non-verbal cues. This helps them anticipate the senior's needs and help them through the day.
Additionally, the buildings themselves are typically designed with memory impairment in mind. For example, a memory care community may have hallways and layouts that are easy to navigate, secured outdoor areas, security, or keycard access.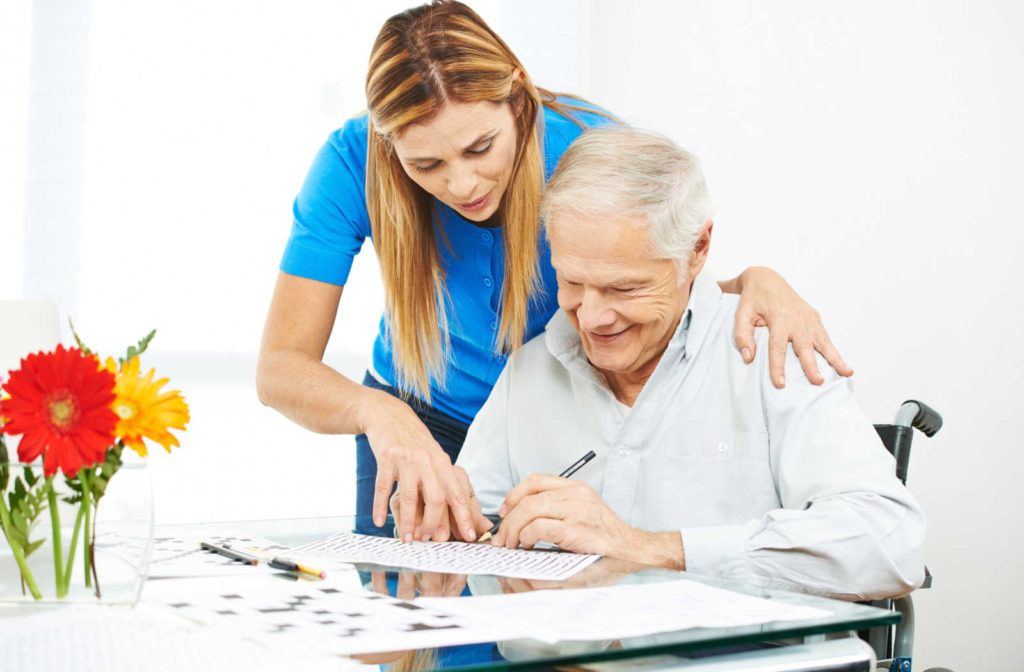 When to Move from Assisted Living to Memory Care
The assistance that a senior receives in assisted living will only take them so far. With cognitive problems, such as dementia or Alzheimer's, memory care is often eventually necessary. Let's look at a few things the family and caregivers typically consider.
Overall Health
There are often other diseases or conditions that can accompany dementia. If an aging adult is developing dementia, their overall health needs and state must be a significant consideration in the appropriate care.
Mental Health
Seniors in the early stages of Alzheimer's disease are more susceptible to depression. If a caregiver notices signs of mental illness, it's important that it's taken seriously. Staff in a memory care community will typically have additional training that could equip them to notice these signs and take the appropriate action.
Mental Capacity
A significant benefit of a memory care community is that they're typically designed to be easy to navigate and hard to get lost. If a senior begins wandering off or forgetting where they are, this could lead to problems in the wrong environment. But in a memory care setting, the senior is safe and has a lower chance of getting lost.
Tips for a Smooth Transition
Any of the transitions in a person's later years have the potential for discomfort because there could be major life changes happening that a senior doesn't entirely understand. This is especially true in a situation with dementia.
Some tips for a smooth transition from assisted living to memory care include:
As the senior's loved one, you may be their only bridge between life at home and the memory care community. So, communicating their preferences, such as music, food, or activities, is an important part of ensuring your loved one's needs will be fully met.
Understand that there is no one-size answer to a smooth transition. Each person's personality, the development of dementia, and what they're used to may play into it. It's important to be flexible enough and allow the professional caregivers to guide the process as much as possible.
When you're packing for or helping your loved one pack, make sure there are lots of towels, washcloths, and extra bedding included. In memory care communities, a senior's dietary needs are typically provided for. But it may help make your loved one feel more at home by including some of their favorite snacks and drinks.
Talk About Your Loved One's Situation With Us
The decision about where to retire is an important one. And if your loved one cannot make the decision alone, it's important to find the right support. It's not about just finding a place for them to retire, but a community who cares enough to get involved with you and help you and your loved one at each step.
If you're considering Edina for your loved one's retirement, give the team at Yorkshire of Edina a call. We're happy to answer all your questions and book a community tour.